At Penn Creative Writing, we believe the lessons learned in writing workshops are applicable across all disciplines, and indeed, can be useful in all future professions. We regularly hear from alums who say that they enlist the creative communication skills they built in such fields as law, medicine, and business.
And then there are those students who have gone on to work in literary, journalism, and arts fields, including the notable alumni on the wildly noncomprehensive list that appears below. Alums also show up frequently on our Twitter feed and appear frequently as guests at Kelly Writers House.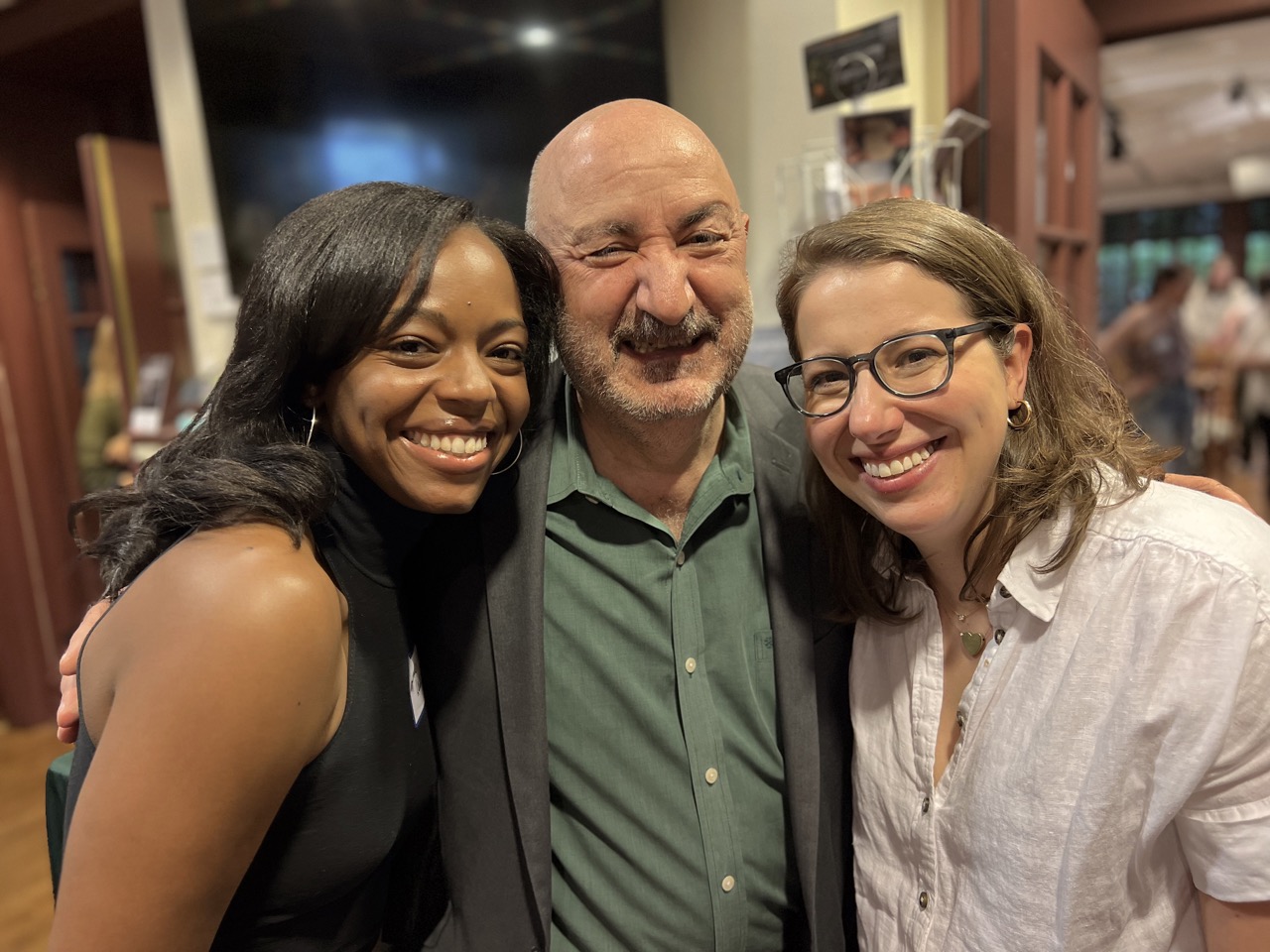 Just a few of our Creative Writing Program alumni:
Jacob Gardenswartz (C'18, LPS'18) earned both a BA in communications in the College and a master's of public administration from the Fels Institute of Government before joining MSNBC as a production assistant/anchor producer for the MSNBC show The Beat with Ari Melber.
Amanda Silberling (C'18) was the corecipient of the Creative Writing Program's Best Honors Thesis prize for her cross-genre project "How to Write a Good Poem." Additionally, she received a Creative Ventures Capital Grant from the Kelly Writers House to produce the documentary "We're Here, We're Present: Women in Punk," which premiered on VICE and screened at events from San Francisco to Madrid. Her writing and photography has appeared at NPR, Hyperallergic, Fodor's Travel, and elsewhere. After leaving Penn, she worked for the Luang Prabang Film Festival in Laos as a Princeton in Asia fellow, and then returned to CPCW as a Van Doren Fellow. 
Dan Spinelli (C'18): after serving as executive editor of the Daily Pennsylvanian and eating John Leguizamo's dinner rolls as a Kelly Writers House work-study, Dan Spinelli moved to Washington, DC, to cover national security for Mother Jones. As a student, he held internships at the Philadelphia Media Network, Forbes, and Politico. 
Maurin Mwombela (C'17) majored in urban studies and was a writer and cast member of the Mask and Wig Club, the nation's oldest collegiate, all-male musical comedy troupe. A burgeoning writer and comedian, Maurin is assistant to the showrunner of the ABC sitcom The Goldbergs. Follow Maurin on Twitter: @MaurinYourMouth.
Peter LaBerge (C'17) graduated Phi Beta Kappa and summa cum laude in English and consumer psychology. He founded The Adroit Journal as a high school sophomore in 2010, and founded the Adroit Journal Summer Mentorship Program in 2013. His poetry has appeared in Best New Poets, Crazyhorse, Harvard Review, Indiana Review, Iowa Review, Kenyon Review Online, Pleiades, Tin House, and elsewhere. He is the recipient of a fellowship from Bucknell University's Stadler Center for Poetry. 
Jennifer Yu (C'16) graduated as an English major with a concentration in creative writing, but only after detours into pre-med, economics, and pre-law. The first of her two YA novels, Four Weeks, Five People, took wing in Kathleen Van Cleve's workshop on writing for children, and her second novel, Imagine Us Happy, came out  in 2018. On a visit to campus, she spoke with Jamie-Lee Josselyn about the post-Penn writing life. "One of the things I miss most about being at school is taking workshops," Jennifer said. "[It] can get hard to motivate yourself when you're the only person pushing your work forward." To hear the conversation in full, click here, or follow Jennifer on Twitter: @yuontop.
David Marchino (C'16) is a Philadelphia-based creative nonfiction writer and educator whose work has appeared in The Penn Review and RKVRY Quarterly. His essay "No Goodbyes" won the 2016 Penn PubCo Award for Best First-Person Narrative, and his personal narrative "Going Places" was nominated for a 2018 Pushcart. His work has also appeared in Cleaver Magazine. In the past, Marchino served as a citizen-artist on behalf of ArtistYear, teaching a creative writing curriculum at Alexander Adaire Elementary in Philadelphia. Marchino served as assistant director of the Summer Workshop for Young Writers at the Kelly Writers House and was the administrative assistant at the Center for Programs in Contemporary Writing. Currently, he's pursuing an MFA in creative writing at Rutgers University.
Gabriel Ojeda-Sagué (C'16) received the L. Barry Pick Prize for Best Undergraduate Thesis (corecipient) for his project "'Another, Then Another': Gay Male Orgy and Political Futurity." He is the author of Losing Miami (Civil Coping Mechanisms, 2019), Jazzercise Is a Language (The Operating System, 2018), and Oil and Candle (Timeless, Infinite Light, 2016). Gabriel is also the author of chapbooks on gay sex, Cher, The Legend of Zelda, and anxious bilingualism. He is a PhD candidate at the University of Chicago and a many-times-over TA for Al Filreis's online course ModPo. Gabe's website is here.
Jess Bergman (C'14) graduated Phi Beta Kappa with a degree in English (creative writing). A program assistant at Kelly Writers House throughout her time at Penn, she also interned for Philadelphia City Paper and McSweeney's. Her essays and criticism have appeared in The New Republic, Lapham's Quarterly, The Cut, and Full Stop, and she is currently web editor of The Baffler.
Faryn Pearl (C'14) graduated magna cum laude after studying classical and ancient studies, English, and fine arts, and participating in such groups as Without a Net Improvisational Comedy Troupe, 34th Street Magazine, Friars Senior Society, and the Alpha Delta Phi Literary Society. She interned at Sesame Workshop and Nickelodeon Animation Studios and is now a story artist at DreamWorks Animation, working on such projects as Trolls 2 and Home: Adventures with Tip and Oh.
Janelle McDermoth (C'14) majored in Africana studies, wrote for Filament and The Walk, and hosted her menswear blog, On Form and Freshness. As a multiplatform creator, she performs on stage and screen, including a role in the Broadway show A Bronx Tale and in the television shows Blindspot and High Maintenance. Visit her online at www.janellemcdermoth.com/.
Arielle Pardes (C'14), a former Daily Pennsylvanian opinion columnist, is a senior editor at Wired. Previously, she was an editor at VICE. 
Emily Jungmin Yoon (C'13) majored in English and communications, won the Sunken Garden Chapbook Prize, and published the poetry chapbook Ordinary Misfortunes (Tupelo Press, 2017). Harper Collins published her first full-length collection, A Cruelty Special to Our Species, in 2018. Her poems and translations have appeared in the New Yorker, Poetry magazine, Columbia Journal Online, Pinwheel, and elsewhere. She is the poetry editor for The Margins, the literary magazine of the Asian American Writers' Workshop.
Ali Kriegsman (C'13) is the cofounder and COO of the Brooklyn-based company Bulletin. She has been featured on the Forbes 30 Under 30 list. At Penn, she wrote for Filament and The Walk.
Joe Pinsker (C'13), winner of the Nora Magid Mentorship Prize, is a staff writer at The Atlantic, writing about families and education. At Penn, he was managing editor of 34th Street. Follow him on Twitter: @jpinsk.
Jessica Goodman (C'12) is the author of the YA novel They Wish They Were Us from Razorbill/ PenguinTeen. She is the op-ed editor at Cosmopolitan magazine. She and her team received a National Magazine Award for their 2017 story "How to Run for Office."
Hillary Reinsberg (C'11), a former Under the Button editor, is editor-in-chief of The Infatuation/Zagat. Previously, she was an editor at Buzzfeed. In 2019, she was listed on the Forbes 30 Under 30 list for media.
Joshua Bennett (C'10) graduated as a double major in Africana studies and English, with the distinctions of Phi Beta Kappa and magna cum laude. While at Penn, Joshua performed with the Excelano Project and was a regular at Speakeasy open mic nights. He also performed spoken-word poetry at the Obama White House and delivered Penn's 2010 commencement address. He went on to earn his PhD from Princeton University and joined the faculty of Dartmouth College. Winner of the 2015 National Poetry Series, Joshua visited Penn for a poetry reading of his debut collection, The Sobbing School. For more on his visit to campus, click here.
St. John Barned-Smith (C'08) graduated magna cum laude with a BA in English and a concentration in nonfiction writing. At Penn, he was the assistant editor of Soapbox Magazine and a staff reporter/photographer for The Daily Pennsylvanian. After graduation, he worked for newspapers in Boston, Philadelphia, and suburban Maryland and served in the Peace Corps in Paraguay. In 2014, St. John joined the Houston Chronicle, where he has written about gaps in mental health care in the state's criminal justice system and covered major natural disasters, including floods, bombings and mass shootings. Follow St. John on Twitter: @sjtbs.
Uri Friedman (C'08) majored in European history at Penn, but an introduction to blogging class he took with Dick Polman in his senior year introduced him to journalism, the path he decided to pursue. He's now a staff writer on national security and global affairs, for The Atlantic magazine, where he's been since 2013. Follow him on Twitter: @UriLF.
Ashley Parker (C'05) graduated with a double major in communications and English with a creative writing concentration. At Penn, Ashley served as features editor and writer at both 34th Street and The Daily Pennsylvanian. She was a Benjamin Franklin Scholar, and in her senior year won the Nora Magid Mentorship Prize. Ashley worked at the New York Times for eleven years; in 2017, she joined the Washington Post and was part of the team that won a 2018 Pulitzer Prize for reporting on Russian interference in the 2016 presidential election. She's also a senior political analyst for MSNBC. Follow her on Twitter: @AshleyRParker.
Tahneer Oksman (C'01) took an academic path after concentrating in creative writing at Penn. She is now an assistant professor of writing and director of the Academic Writing Program at Marymount Manhattan College, and the author of "How Come Boys Get to Keep Their Noses?": Women and Jewish American Identity in Contemporary Graphic Memoirs. Tahneer frequently publishes reviews and interviews in publications including The Los Angeles Review of Books, The Forward, and Jewish Book Council, and she is the graphic narratives reviews editor for the online literary journal, Cleaver Magazine.
Maris Kreizman (C'00) is the host of The Maris Review, a literary podcast from LitHub, and the creator of Slaughterhouse 90210, a blog and book (Flatiron Books, 2015) that celebrates the intersection of literature and pop culture. She is an essayist and critic whose work has appeared in the New York Times, the LA Times, The Wall Street Journal, The Atlantic, Vanity Fair, BuzzFeed, Publishers Weekly, The Ringer, The Toast, The Hairpin, The Cut, Vulture, Glamour, Esquire, GQ, OUT Magazine, and more. Previously, she was the editorial director of digital content at B&N.com, a publishing outreach lead at Kickstarter, a book editor (Free Press/S&S), and the editorial director of Book of the Month.
Doree Shafrir (C'99) majored in English and wrote for the Daily Pennsylvanian and 34th Street. She went on to work at Gawker, Rolling Stone, and New York Magazine, and currently is a senior tech writer at BuzzFeed. She's the author of the novel Startup and cofounder of the website Postcards From Yo Mamma, and cohosts two podcasts with her husband, Matt Mira. Visit her at doree-shafrir.com and on Twitter: @doree.
Jennifer Egan (C'85) Jennifer Egan graduated with a degree in English. Her bestselling novel, Manhattan Beach, was awarded the 2018 Andrew Carnegie Medal for Excellence in Fiction. Her previous novel, A Visit From the Goon Squad, won the 2011 Pulitzer Prize, the National Book Critics Circle Award, and the Los Angeles Times book prize. Also a journalist, she has written for the New York Times Magazine — most recently about pregnancy and childbirth among opioid-dependent women. Jennifer has served as president of PEN America and was an artist-in-residence at Penn in 2018–2019. Her website is jenniferegan.com.