After Friday Night Lights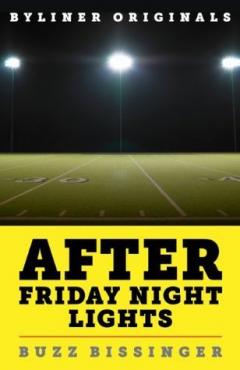 Buzz Bissinger
2012
Byliner
"Twenty-two years after he wrote Friday Night Lights, his classic account of high school football, Buzz Bissinger has penned a sequel.
"After Friday Night Lights, which is being published as an original ebook single from Byliner, explores Bissinger's complex quarter-century relationship with Boobie Miles, the star running back at Permian High School in Odessa, Texas, whose career was cut short by an injury. 
"Bissinger moved to Odessa in 1988 to follow the Permian High School Panthers, one of the best teams in Texas, to explore the role of football in the lives of players, their families, their coaches, and the town.
"Boobie Miles'' story was at the center of the book. During the 1987 season, he gained 1,385 yards as the team's running back and was being recruited by such colleges such as Nebraska, Oklahoma, Texas and USC. During the 1988 preseason he injured his knee and never fully recovered, eventually quitting the team. 
"After Friday Night Lights picks up Miles' story from there, following him through the dark years he suffered after his injury right up to a more hopeful present. The book captures the oddest of enduring friendships: 'that of a writer and his subject, a "neurotic Jew" and a West Texas oil-field worker, a white man raised in privilege and a black man brought up in poverty and violence, and a father and his 'fourth son.'" — The Hollywood Reporter