Cleaver Magazine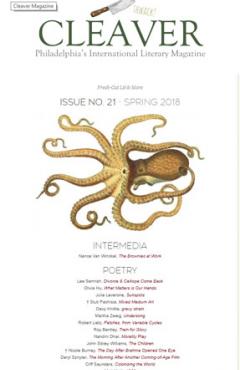 Karen Rile
Cleaver Magazine is a Philadelphia-based online magazine founded by UPenn creative writing instructor Karen Rile. Cleaver provides a platform for underrepresented writers and artists producing work of the highest quality.

Cleaver exists to:
elevate emerging voices, including young adults, alongside established writers.
showcase Philadelphia literary voices among national and international literary artists.
develop the editorial skills of young writers through our selective internship program.
present balanced, insightful book reviews promoting work published by small presses as well as often-overlooked works in translation.
represent the fullest diversity of literary art for all genres and content, advancing
emerging contemporary literary forms.
Cleaver offers access to the public free of charge and is published in March, June, September, and December.